Take 8 lively women, add in a huge dose of laughter, fun and humour, some fine wining and dining, a bit of sausage making and a bonfire on the beach and of course, some cycling through the sunny Hawkes Bay and you have the recipe for a deliciously wonderful weekend!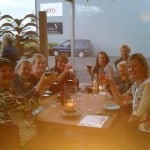 We drove down from Auckland on the Friday picking up women along the way and soon the van was full of excited and animated chatter as the women got to know each other. On arrival in Napier we got fitted out for our bikes, sorted ourselves out in the motel and then went off into Havelock North to Deliciousa Tapas. We can highly recommend their gorgeous tasting tapas.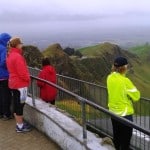 The next morning we woke up to a rather gray and dismal looking day with light rain spitting down. We had some time before going on our guided Art Deco walk so we hopped in the van and drove up to the top of Te Mata peak which still had an absolutely beautiful view despite the weather. Then it was back into Napier to find out more about the Napier earthquake and how they rebuilt the Napier CBD in the art deco style.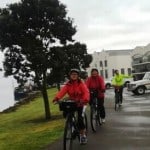 By the end of the tour the rain had eased off a bit and we headed off along the coastal cycle track right out to Bay View and to the Snapper café for lunch.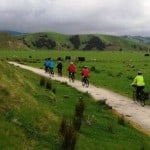 The rest of the day's cycling was through the wetlands area around the Napier airport and back to our motel.
A lovely long soak in the Ocean Spa pools nicely relaxed all those cycling muscles before we headed out to dinner at Milk and Honey, a very nice top quality restaurant.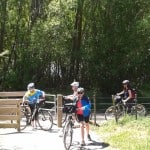 Cycling day two dawned bright and sunny as we cycled off for our pub lunch at Puketapu Pub, exploring and enjoying all the different areas along the way. There were wide smooth paths through suburb back streets, crushed limestone paths through fields, under pine trees, beside rivers and little lakes with so much to see and enjoy.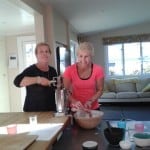 Once back from our cycling, we then went on to our sausage making course which was a lot of fun. We made two different types of gourmet sausages and they were sooo nice!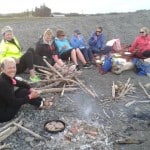 That evening we had a fire on the beach with bubbly, wine, nibbles and hot chips and cooked some of the sausages over the fire. We finished off with roasting marshmallows over the fire….divine!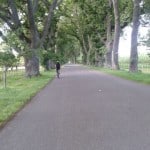 Our last day's cycling was out to Te Awa winery where we once again enjoyed amazing food in a beautiful setting before cycling back to Clive to drop off our bikes, hop into the van and head off back to Auckland. It had all been a simply perfect long weekend. I'll definitely use that 'recipe' again!