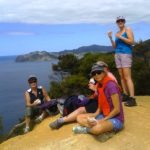 Thank you for organizing the great trip to Coromandel and the photos on facebook are excellent.
I just wanted to say thanks for a great weekend, I really enjoyed it!
3 in 1 Cycle Trails - 2018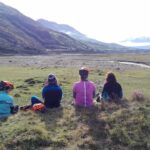 I just wanted to say thankyou so much for such a great Adventure. I had a really good time and enjoyed meeting the other ladies and yourself. You had done a fantastic job organizing everything and that was much appreciated. It was an excellent plan to do all three trails in one go. I look forward to joining you and the ladies on another adventure in the future.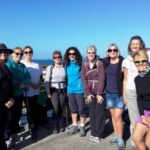 I so thoroughly enjoyed this trip to Tiritiri Matangi and especially loved that we were able to "wring" every last minute of enjoyment out of the two days. Getting up at 4:30am to watch shooting stars followed by the dawn chorus walk was a highlight for me. I thought it was great that you were able to pitch the trip at whatever the participants wanted to do – some easier walks or going back to bed for more sleep vs those who wanted to go to/walk/experience every last bit. We were all catered to and I think that is unique. So thank you again, I had a truly wonderful break and have been singing your praises to all who cross my path. (Although I am slightly concerned that that might mean you get more and more bookings in the future so I better be quick with booking future trips!)
So many good memories. Such an amazing trip
Hawks Bay Cycle Trails - 2015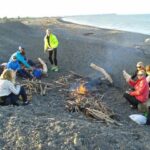 I'm still telling co-workers about my weekend. Thank you all for making it so amazing, a weekend I won't forget.
Wow what a good time .Thank you to all for such a cool weekend. I hope the bodies are all ok and you are all refreshed from our weekend. Thanks for the ride and driving us all Debbie.
Coromandel Weekend - 2014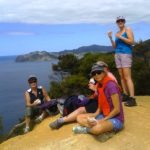 Thank you for organizing the great trip to Coromandel and the photos on facebook are excellent.
I just wanted to say thanks for a great weekend, I really enjoyed it!
Queen Charlotte Track - 2014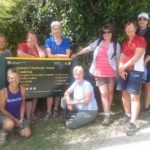 Thanks so much Debbie – had the best holiday I've had in years! Fantastic bunch of women – everyone so friendly and easy to get along with and a superb team leader. I'm really looking forward to keeping an eye on your website and/or facebook page for new adventures for me to participate in. Sandra O. Well what can I say Debbie? You are the consummate professional with a heart the size of Africa, making sure each of us got what we wanted from the trip. Your organisation was faultless and allowed us to enjoy the trip knowing you had all bases covered. So thank you for all of that, you're the perfect person to run these adventures because you care so much about women challenging themselves.
I loved tramping without a pack and having people to walk and talk with or walking alone when I wanted to. I think the Adventure was well organised, fun, and safe.
Cycle Samoa Adventure - 2014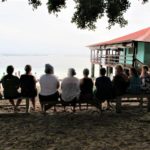 You were a fantastic tour guide and put a lot of effort into organising it. I liked how I didn't have to organise anything or make any decisions. It was all done for me and I could just have a good time. I liked that you knew a lot of songs for us to sing at the home stay. The trip was well planned. There was just enough cycling to make it a challenge as well as lots of time to do other things. Also a good range of places to stay, restaurants and things to visit. That's my top three but also loved the snorkelling, cocktails, Faleulupo, overtaking Julie on the hills, all the kids saying hi, swimming in warm water, the flea market in Apia.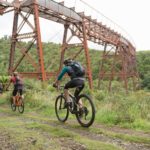 Thanks again for organising yet another great trip.
It was a great weekend and you have a wonderful way of handling people. I loved just stepping back and having no responsibilities ….I loved the bike riding and hope to do more so start coming up with more trips please?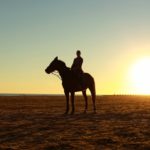 I absolutely loved the horse riding and I'll definitely be back for more!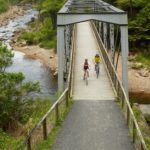 Thanks so much for all your patience and hard work in organising and leading this trip. It was fantastic.
Bay of Islands Tramping Adventure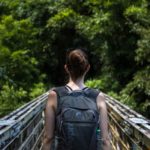 I just want to say that l have thoroughly enjoyed the trip with all of you and how can l forget the glorious weather!! The trip was well organised, good company, good value and I have made connections with everyone! Thank you again for the lovely trip!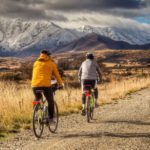 The scenery, the serenity the whole experience will make this trip, truly a trip of a lifetime for me.
I really enjoyed the whole experience.
What a fantastic Rail Trail trip thank you for organising us, you did a great job. I hope this is the start of many more for you. I loved my bike and would recommend SheBikesheBikes. The scenery was to die for, great to have your experience of the trail Debbie and the local knowledge.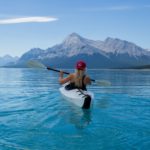 Thank YOU for the wonderful day, perfectly organised, and lovely company. I really enjoyed it. And the challenge of snorkelling out of my depth and finding I loved it!
I had a great time at Goat's Island. Thank you for the great experience. Colleen really appreciated your guidance with her first experience with snorkelling.
Evening Fishing Trip and Other Adventures
Thank you for organising tonight. We all enjoyed it.
Indoor Rock Wall Climbing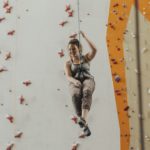 I very much enjoyed the rock climbing on Saturday…..thank you.
Horse Riding at Warkworth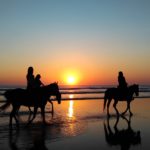 It was a really fun day. I love meeting the other adventurous women also. I really enjoyed my day horse riding.