10pm on a Saturday night…..I could be out at a noisy, lively bar celebrating with Christmas cheer. I could be snuggled up on the couch watching a DVD with my hubby. I could be early to bed reading a good book…….but here I am, smoothly, silently, slicing through the black waters with my paddle, full moon at my back, city lights sparkling way ahead, all around me quiet, peaceful darkness with just the "tail lights" of the other kayaks gliding through the darkness with me.
We are on our back to St Heliers having kayaked over in the late afternoon to walk to the top of Rangitoto Island and watch the sunset.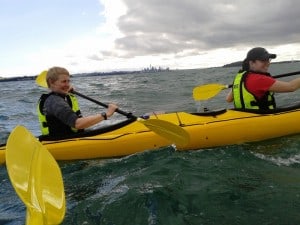 Setting off in choppy seas, (no white caps though) our kayaks felt very stable as we rocked and rolled our way over to the island.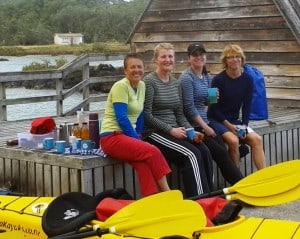 Once we got there we pulled our kayaks right up out of the water and had a very welcome hot drink with muffins, muesli bars and apples.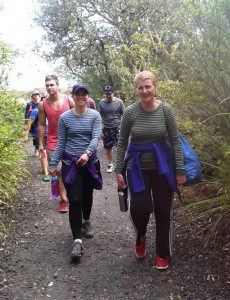 Then it was off for a very nice chatty walk up to the top of the island.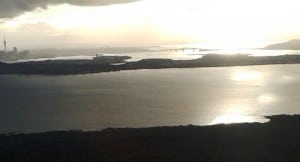 The view from the top of Rangitoto island never fails to disappoint, it is always spectacular. This time there was a lovely silvery light as the sun shone through the heavy clouds. There was no real fiery sunset but that didn't matter at all.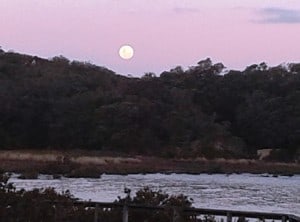 We walked back down, enjoying the evening light and as we arrived back to the wharf, the moon slowly rose up in front of us. She was beautiful! With our backs to the setting sun, we all excitedly took photos and marveled at the beauty of the moon!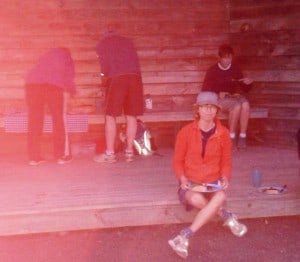 We sat, eating out BBQ steak with couscous and pasta salads, watching the moon and feeling very happy and satisfied.
By now it was 9pm, time to pack up the kayaks, turn on our little tail lights and paddle back.
The first time I kayaked in the dark I remember feeling rather nervous, this time though, I relaxed and thoroughly enjoyed the feeling of being cocooned in the near darkness, the friendly full moon at my back giving just enough light. The peaceful feeling of gliding through the dark water was euphoric. 10pm on a Saturday night……I know exactly where I'd rather be!