Kneeling upright on the board I gingerly and slowly bring one foot out from under me and place it on the board. Hmmm….so far so good…….I then ever so gently bring my other foot out and holding onto the paddle in front of me I slowly rise up from crouching to fully standing, leaning forward, soft knees, my legs shaking slightly, my bare feet gripping the board. A gust of wind blows and I brace myself, totally focused on my balance, phewww, I slowly let out my breath and relax a bit. Now for the paddling part!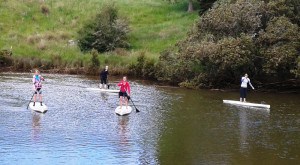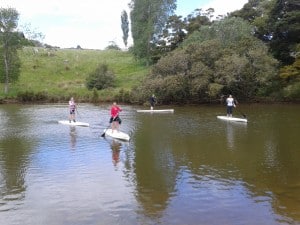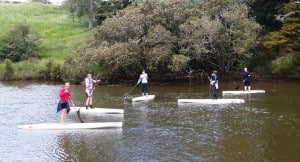 Gradually it all starts to come together as little by little I grow more confident and manage to stop myself from getting caught in the mangroves, from falling off when a gust of wind blasts me as I round a bend in the river and when my board starts going backwards. It's an exhilarating feeling to be in control of this big board, to feel the board surging forwards when I thrust the paddle in. It's also an incredibly peaceful and almost meditative feeling to be quietly gliding along the river as it meanders through the farmland , herons stalking through the shallows, ducks paddling past…..
Standup Paddleboading was the perfect end to our full day adventure outing. We started the day at the Matakana Market, browsing through the many stalls, sampling their wares, rushing for cover under awnings when the squally showers came down and sipping our coffee listening to the lively jazz band playing.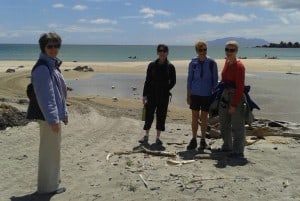 Next stop was the beautiful Tawharenui for lunch and a lovely walk on the Ecology Trail that took us along the beach, up over the headland and down through the bush back to the start.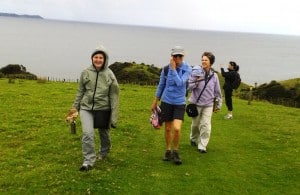 From there we drove in the van back to Matakana and down to the river for our Standup Paddleboarding lesson and guided paddle.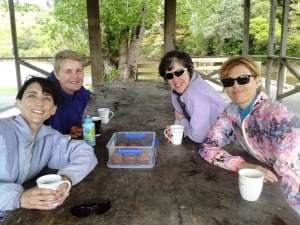 The river was the perfect solution for where to paddle on this unpredictable day. I can highly recommend Matakana Beach Outfitters and our friendly and enthusiastic guide, Ashley.