Yes You May – Day 10 – Sunrise Cycle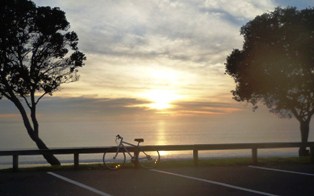 Day 10 of giving myself permission for the month of May to do something every day that makes me feel great!  By now you may have noticed that doing physical stuff makes me feel great.  I do love the physical feel good factor. 🙂 And what I've noticed is that most of the time I'm only actually adding an extra half an hour, that's all, and it makes such a huge difference on so many levels!
This morning I was up and out the door cycling off to our local Estuary cyclepath and stopping to take in the misty gentle sunrise on the way.