The Alps to Ocean Cycle Trail has got to be one of THE most stunning cycle trails around. Superlatives abound when describing the trail and they are well justified. With its snowy mountain ranges, wide open grassy plains, shady tree lined streams, intensely blue canals and lakes……its beauty is all around everywhere, every day you cycle. Needless to say, we all LOVED it.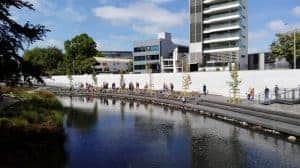 Our adventure started in Christchurch. We all arrived at our YHA accommodation at different times of the day depending on flights. Some of us went off for a bus tour and then a walk around the CBD to see the effect of the earthquakes. I was actually really shocked. I hadn't been to Christchurch since before the earthquakes and I didn't expect it to still look so bad. There seems to be endless road cones everywhere, crushed buildings with sheets of plastic and "keep out" tape flapping in the breeze. Yes, there has been some building going on and there are some lovely little areas and lots of beautiful artistic 'graffiti' and the Botanic Gardens are looking great….but…..I really thought there would have been a lot more done in the CBD area.
Our arrival day ended with dinner out where we all officially met each other. We were all feeling excited and really looking forward to the next 6 days together on the A2O.
Day One – Tekapo to Twizel – 54km (5.5 hrs)
We were all up and organised early for breakfast at the YHA then a short walk down the road to catch the 8am bus to Tekapo where our bikes were being delivered. It was a lovely bus ride, the beautiful scenery all around us was certainly an indicator of what was to come.
Our bus dropped us off at the busy car parking space on the shores of the lake. Camper vans and tourists were everywhere. We had time to head to the local pub for some lunch before our bikes arrived.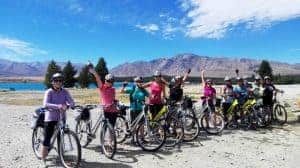 It takes a wee while to get 12 women all fitted out properly on their bikes, little adjustments here and there but soon enough after the obligatory "at the start" photos were taken we headed off…..only to find that it was a bit confusing actually getting out of Tekapo. Finally we were on the right path and we just breezed along beside the incredible turquoise blue canal waters of the Tekapo Canal.
However, our 'breezing' along soon changed to 'battling' along against a vicious side wind that threatened to topple us off our bikes, some even had to get off and walk. It didn't last too long though but it certainly tired us out.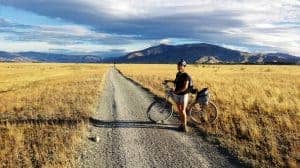 Whizzing along the Pukaki Flats into Twizel was one of the main highlights of this whole adventure for me. I loved the huge wide open space, the purple shadows on the rolling hills, the vast blue sky with surreal cloud formations. My soul soared, my heart sang, I was in heaven!
After a quick supermarket visit we biked around to our accommodation in 2 separate houses and settled in for the night, feeling like we'd biked 80 odd k's instead of 54!
Day Two – Twizel to Lake Ohau – 38km (4 hrs)
This morning a few of our bikes needing "tweaking" so we stopped off at the bike depot and had adjustments made before heading off following the river trail out of Twizel. There were a few big gusts as we cycled along the Ohau Canal but nothing like we had had the day before. Lunch was at the Ohau Dam and then we were off again cycling a lovely trail around the edges of Lake Ohau. Lots of twisting, turning, little ups and downs, through scrubby growth full of bright red rose-hip bushes and surrounded by massive hills and mountains, most of them with pockets of snow at the top.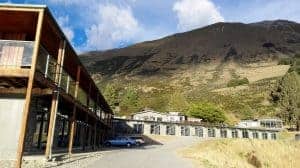 As beautiful as it was, by the time we reached the road into the little settlement of Lake Ohau we were ready to stop, though we had another 5km to go to go our accommodation at Lake Ohau Lodge. And what a relief it was to get to such a stunning place. We had very nice twin share rooms and soon we were showered, rested and enjoying our pre dinner drinks in the lounge overlooking the lake. After an absolutely sumptuous dinner and lots of laughter and stories we each retired for a well earned sleep. We were definitely going to need it for the day ahead!
Day Three – Lake Ohau to Omarama – 45km (6hrs)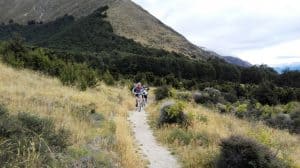 Today we were in for a long steady climb up to the pass and then pretty much downhill all the way to Omarama. Sounds relatively easy……. On our way up to the pass it started spitting with rain and getting bitterly cold. At times the path was steep and rocky and right on the edge of a long drop down to the hills below. Some of the group needed to get off and walk and we ended up in two separate groups. There was no time to stop and regroup at the top of the pass as it was just too cold. Despite the cold we all marvelled at the beauty that surrounded us and there were still lots of quick photo stops!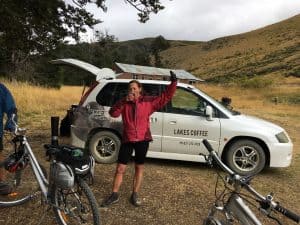 It was a fast and furious ride down from the top on a stoney trail that wound its way down to the plains below. We had heard that there was a coffee van at the old historic wool-shed but didn't want to get our hopes up just in case it wasn't there…..We still could hardly believe our eyes when there in the absolute middle of no-where, like a surreal mirage, was the coffee van with lattes, flat whites, hot chocolates, the works! We practically swooned with delight.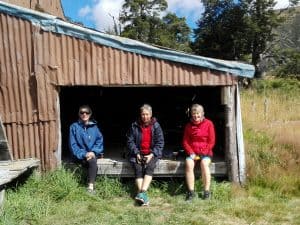 Sitting in a sheltered spot in the sun with our hot chocolate, eating our lunch was just heavenly.
And on we went….. Unfortunately there was no time for the side trip up to the Clay Cliffs but we managed to meet up with some of the first group who had made the one and a half hour detour to view this amazing sight.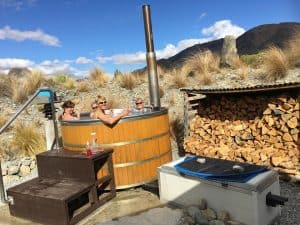 Our motel accommodation in Omarama was a very welcome sight and the long soak in hot tub spa over the road was absolutely divine! Dinner was at the local pub just down the road and then it was off to bed for an early night.
Day Four – Omarama to Kurow – 80km (8hrs)
Today was an incredibly beautiful ride but just a bit too long as we had extra mileage added on to get to our farm stay accommodation out of Kurow. It was a very chilly start to the day with frost on our bike seats and we were all bundled up in our thermals and gloves as we headed off on what was to be one of the most beautiful days on the cycle trail.
We sped along beside Lake Benmore, it's deep blue waters sparkling in the sun, then up onto State Highway 83 where we carefully rode in single file as we climbed up to the Otematata saddle with big trucks roaring past.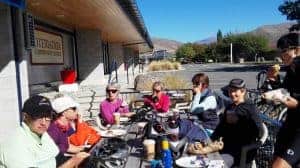 Our morning tea stop was at the Otematata café. We stocked up on food for our lunch at the local Four Square before heading off on the next section. It was a short but pretty steep climb up to the top of the Benmore Dam and what a stunning view from the top.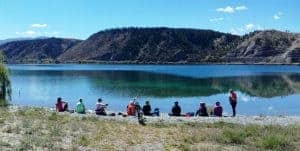 We couldn't have asked for better conditions as we cycled around Lake Aviemore, it was so sunny, still and calm that you could clearly see the reflection of the surrounding hills in the lake. Golden leaves on the trees that fringed the lake, a flock of sheep being herded ahead of us, crab apples ripe (but still sour) for the picking, the warm sun on our back, our lunch stop sitting gazing at the lake, were just some of the delights.
A lovely flat riverside ride took us into the small town of Kurow where Richie McCaw stands proudly in his All Black splendour. We rode on through and stopped at the Kurow Winery for much needed refreshments as we were all starting to feel the effects of our long day. In hindsight, we should have all been picked up from the Kurow Winery and taken to our farm-stay accommodation as the extra k's were just a bit too far for most.
After showers and a rest we gathered together for pre dinner drinks and then a wonderful huge home cooked meal before retiring. All up, it had been a beautiful but huge day's ride!
Day Five – Kurow to Burnside Road – 55km (6hrs)
After a lovely big breakfast we were all packed and ready to go. 4 of us were taken to where we had stashed our bikes under some trees beside the road when we got a lift up to the farm the day before. The rest (who had bravely rode their bikes) all the way, headed off from the farm to meet us at the crossroads…..except it didn't quite happen that way. Due to a misunderstanding we all missed each other but we eventually all met up together when a local stopped was able to courier the message to those of us who were waiting, (phone coverage wasn't that good there.)
It was a lovely easy start to what was to be quite a hilly day. We sped along the highway before getting back onto the trail, wending and weaving our way through pockets of shady trees, through paddocks and alongside the river and eventually into Duntroon. We were looking forward to a coffee stop but there was no café. However we found out there was a coffee machine at the Vanished World Museum so we a happy bunch of women sitting in the sun outside the museum sipping our coffees and eating our huge morning tea that was part of our farm stay packed lunch.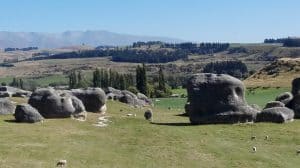 There were a couple of historic sights for us to visit on our way. We stopped at the Takiroa Maori rock art drawings and then started on one of the many climbs we were to do that day. We stopped and admired the Elephant Rocks, and then it was another long and winding climb up to Island View, with fast and fun down-hills! An abrupt turn took us off the road and onto the trail that goes through Rakis Tunnel. Out came the torches as we walked our bikes through and out the other side where we cycled through lovely little pine forest glades carpeted with pine needles and then another long hot hill, cycling in the sun to the top of Peaks Rd. Most of us found our way up to Burnside Rd but unfortunately a couple of the front riders continued on the cycle trail and ended up cycling into Enfield before being redirected back to our accommodation at Burnside Historic Homestead.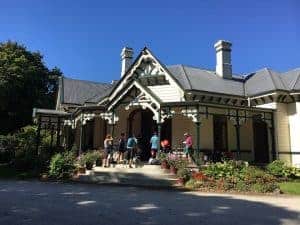 Our last night on the A2O was spent in THE most beautiful accommodation. Practically all the women had their own rooms, all decorated in the old period style. There were 4 poster beds, free standing claw foot baths; it was like we had stepped back in time. Even the couple that run the place are dressed in period costume. We wined, dined and slept in absolute luxury and loved every minute of it.
Day Six – Burnside Rd to Oamaru – 20km (2hrs)
We all slept so well and woke feeling refreshed, most of us wanting to stay an extra day and just enjoy the place a bit more. We had a beautiful big breakfast before we cycled off to Oamaru, literally just down the road, and the end of the trail. Once again the sun was shining and the conditions were perfect as we sped along what used to be an old railway line. I cycled along thinking of all the beautiful places we had seen on the last 6 days, it was almost overwhelming and I felt quite emotional as I cycled into Oamaru. What a lovely way to end the trail, riding through the Oamaru Botanical Gardens and on through the Victorian Historic Precinct with its alleyway type streets leading to the Oamaru Harbour.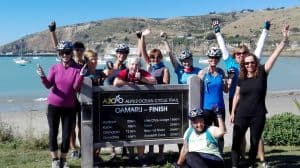 We gathered together for the obligatory "end of the trail" photos, all feeling immensely happy and proud of what we'd achieved.