Well, what a weekend that was!  We had perfect weather, a great group of women, a lovely place to stay, an absolutely beautiful walk on both days…..the Bay of Islands really turned it on for us and definitely lived up to its reputation as the "winter-less north."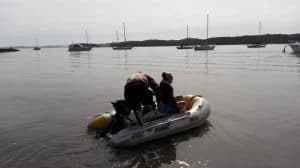 What we hadn't expected to happen was a broken ankle!!
A slight hollow in the track, a misplaced foot, the ankle turned and down Helen went, painfully landing on her bent leg with the ankle underneath her and, to make matters worse, it was her previously broken ankle!!
There were lots of "luckily's" that then followed.  Luckily, we were very near a road end so we could get transport, luckily she could be piggy backed out, luckily there was a guy in a little dinghy who could take her the short distance from the track across the water to the little bay with the road end, luckily our taxi driver who I rang, was an ex ambulance driver and chairman of the St John's, (it was quicker to get him than to send for an ambulance), luckily she could be easily lifted into the back of the taxi van and taken to nearby Kawakawa for x rays etc.
Needless to say, despite all the "luckily's" she was gutted to have had the accident and missed out on the rest of the day's hike from Paihia around to Russell.  We were very near Opua when it happened so a good 2 hrs into the hike. One of the other women, her cousin, went with her to Kawakawa and the rest of us continued on, catching the 5 min ferry from Opua over to Okiato and from there we walked to Russell.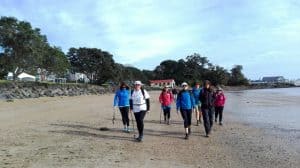 As I said earlier, we had perfect weather.  The sun was shining and one by one the thermal layers starting coming off.  We climbed up the bushy hillside, up and down along a ridge and back down lots of steps to the water's edge.  We stopped for lunch at the end of a little jetty.  It was such a quiet and tranquil spot with a lovely little breeze that refreshed our sweaty brows.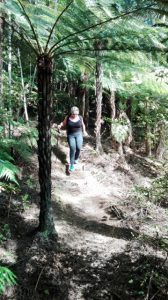 We continued on, along the boardwalks, beside the road and finally into the streets of Russell.  We were a pretty tired out bunch of women but also very pleased with ourselves and what we had done.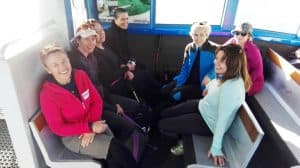 We caught the next ferry, met up with the 3 other women, (one of whom had just done a shortened version of our walk), commiserated with Helen who was now hobbling around on crutches and hopped into our vehicles and headed back to Auckland.  what an adventuresome weekend it had been!!