A rushed ride to the ferry and a panicked ride to the airport bracketed the beginning and the end of what was otherwise a fabulous four days of exploring Great Barrier Island.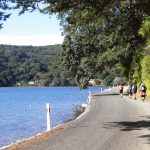 We left at 8am from the Sealink ferry terminal in Auckland for what was supposed to be a 4hr trip…….5 hrs later we arrived in Tryphena after a very choppy crossing with most of us feeling a bit green around the gills.
However, the sun was shining and the sea was now calm and sparkling beside us as we walked along the road into the little township of Tryphena. Stopping at a General Store we bought some basic supplies for our meal that night and breakfast and lunch the next day. We divvied up the food between us, squeezed it into our already full day packs and set off for the approximately 3 hr walk over to Medlands Beach, following the Kowhai Valley Track.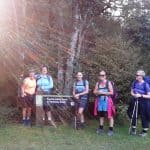 It was a long climb up Rosalie Bay Rd to the start of the track and by now the sun was slowly slipping towards the horizon. We hoped we would get to our accommodation before dark. Did we make it ………..well …… no. The last 10 minutes or so we walked along the road in the dark with our headlamps blazing before finally making it to Medlands Beach Backpackers. It had been a long and eventful day and we were all ready for showers, dinner and an early night. The bottle of wine that one of the women had stashed in her backpack went down a treat too!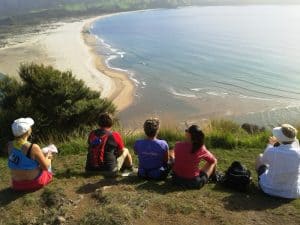 The next morning we were picked up by Lianne from GO Great Barrier and taken to the start of the Heretaonga Coastal Track. This pretty track meanders gently around the hills overlooking the coast with all it's stunning secluded bays and coves.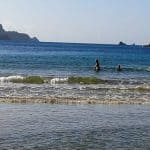 We made it in plenty of time to our pick up spot at Heretaonga Bay so decided to check out the beach and couldn't resist stripping off and running in for a very refreshing swim. We couldn't believe the water was so nice for May!
Lianne picked us up and drove us to our next accommodation at Crossroads Backpackers, stopping to look at the gorgeous views of the island along the way. We were hosted by the very friendly and chatty Kate and Bruce.
Dinner that night was at the local Sports Bar which was pretty much right next door. This was a lovely big open plan wooden building with a big blazing fire, which wasn't really necessary but added to the ambience. We all thoroughly enjoyed our evening there, chatting with the locals and of course the great food.
Day three and we were up, leisurely breakfasted in the sprawling comfy kitchen/dining room and off up the road to the start of the Te Ahumata Track that would take us up and over to Whangaparapara and our next accommodation at Great Barrier Lodge.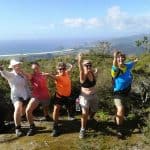 The Te Ahumata Track is an easy walk with an hour loop up to the look out at the top of the big flat ridge. It was another lovely blue sky sunny day as we ambled along, chatting and laughing, enjoying the day. The view from the top, though slightly hazy, was still well worth the climb.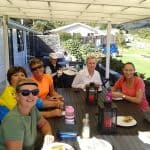 We strolled down the road and into Whangaparapara to the Great Barrier Lodge where I had phoned ahead to let them know we'd be wanting lunch. I was so glad I had as we were all feeling pretty hungry and wolfed down the BLT's, toasted sandwiches, moist carrot cake and plunger coffees!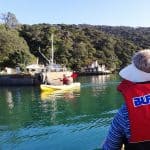 Some rested after lunch and some of us went off kayaking, exploring the calm and tranquil bay. Tui's sang from the nearby trees, the water was glassy and smooth as we silently paddled, absorbing the beauty.
Fresh snapper and salad for dinner, sitting out on the deck of one of the cabins, rugs over our knees, talking together, sharing our stories…… just perfect. Once again, I'd been blessed with such a lovely group of women to share another adventure with.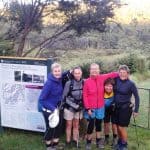 Our last morning on what was to be an exciting and almost disastrous day. We were up early and on the track to the Hot Springs by 7.30am. We were running to a relatively tight schedule to get to the hot pools, have a soak and walk out to the road to be met by Steve, (Lianne's husband) and taken to Claris to get our 12.30pm flight.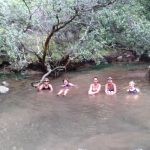 All went beautifully to plan, we had plenty of time for our walk, loved our long soak in the natural hot springs pool, got out to the road with 10 minutes to spare…… 40 minutes later we were still waiting!
We were starting to get worried as our flight would be leaving in half an hour and we still had to get the rest of our stuff from the Lodge which was in the opposite direction to the airport. We managed to flag down a local and get them to ring Steve, (there was no phone reception where we were) and soon Steve turned up apologising profusely. He had read our pick up time as 1.30, not 11.30! A speedy dash to pick up our bags (as much as you can on the winding Great Barrier roads) and a then a return rush into Claris to the airport where we made it with 2 minutes to spare! As much as we all loved being over there we all had lives to get back to on the mainland.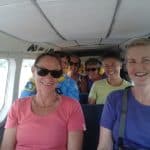 We clambered into the little 8 seater plane and had a lovely flight back, (just ahead of a big storm, thankfully) marvelling at the beauty below us.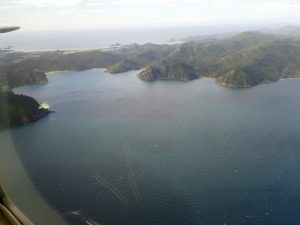 Once again, Great Barrier Island seduced us all with her beauty, her friendly locals, her laid back lifestyle and sense of New Zealand as it used to be. I'll be back again with another group next year, count on it!