I don't think we could have fit more into this weekend if we tried! We covered all the bases from screaming exhilarated excitement to blissful sighs of relaxation.
We arrived at our motel – Malones (that had these awesome huge spa pool bath tubs) and then set off for a cultural tour of Whakarewarewa Village.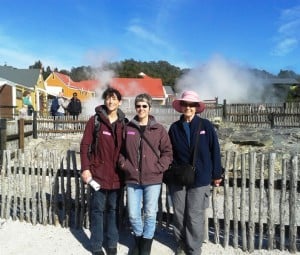 This place is well worth a visit and is a fascinating insight into how the Maori people used and still use this geo thermal area. An enthusiastic singing, dancing and poi demonstration finished off the tour.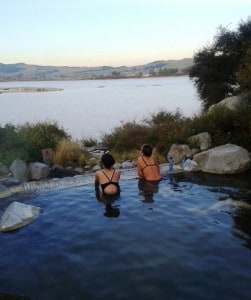 From there it was off to relax in the famous Polynesian Pools. Soaking in these natural hot springs while gazing at the lake beyond as the day slowly turned to dusk, was utterly wonderful!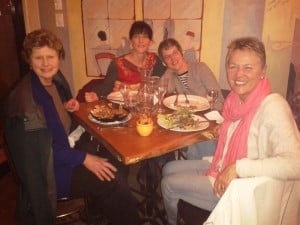 Feeling very relaxed but hungry we went into town to find somewhere for dinner. Well, it seems we were the only ones who hadn't booked a table in Eat Street. Everywhere was booked out solid! It was the Blues Music Festival weekend and there were people everywhere and the cruisy, body swaying beat of blues music drifting out of the bars and cafes. We eventually found a table at the yummy Ephesus cafe, settled back with wine and food and enjoyed the evening.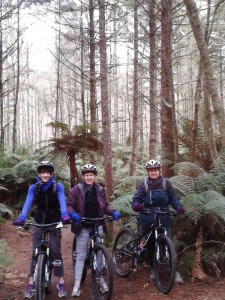 Day 2 was our "adventure day' starting with mountain biking in the Redwood Forest. Half of the group were novices so we started on the Kids Loop which certainly still gave us plenty of oomph! We then split up into 2 groups and did the trails that best suited our abilities. There are so many trails (and so many people) everywhere. You could easily spend a day exploring and having lots of fun.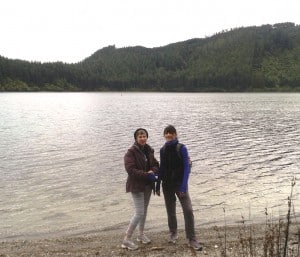 From there we headed off to walk around the Blue Lake – a very pretty little lake that supposedly takes one and a half hours to walk around but ended up taking us a bit longer due to taking a couple of wrong turns. Signage is not the best!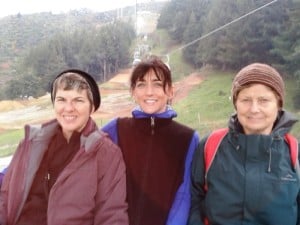 By then it was getting on for 4pm and we still had the Luge rides to go (as did hordes of other people as it turned out!) We managed to get 2 rides in before they closed for the evening and we LOVED it! We 'warmed' up on the beginners track where we each seemed to get in touch with our inner racing woman before setting off confidently down the intermediate track daring anyone to try to overtake us!
Feeling exhilarated but also pretty 'had it', we headed into town for a lovely tapas meal and a wine (still in our adventure gear) before going back to our big spa bath pools and soaking the rest of the evening away. Bliss……..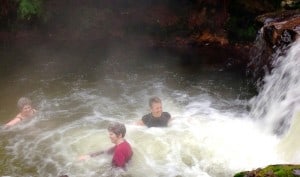 We woke to spitty rain the next morning which was off and on for the rest of the day. We breakfasted at Fat Dog Cafe and then headed off towards Taupo to Kerosene Creek, a natural hot pool, down a dirt road in the NZ bush. I can highly recommend this! Just 2km off the road, a little shed and toilet, a 3min walk along the river to a steamy big pool with a forceful waterfall that was great to stand under!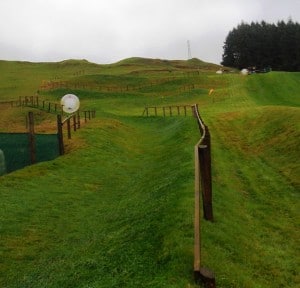 Today was going home day but not before a zorb ball ride on the way! We stopped at OGO, stood waiting, shivering in our togs and thermals before being taken up to the top of a big hill. Pamela and I were doing the Sidewinder, a longer and supposedly more gentle ride, Carisa was doing the straight ride – faster but shorter. 40 litres of hot water inside our zorb ball made it nice and comfortable …..until the ball started rolling down the hill!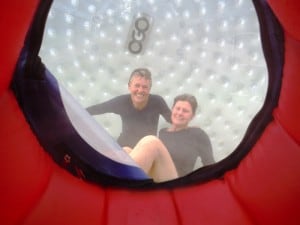 It was definitely a lot of fun, very exciting, verging on hysteria and a not to be missed experience! As an aside, Pamela is a pensioner in her 60's, an intrepid explorer from way back but still very nervous about doing this adventure and she did it! Very inspiring!
So that was our 3 day, jam packed weekend of adventure, (with some relaxing stuff) in the tourist mecca of Rotorua. I'll definitely be doing this adventure again!