This was a real mixed bag of an adventure! We had some lovely weather and some really foul weather. We had days of easy tramping and days where we really struggled. We missed our final ferry but ended up quite pleased that we had. Yes, it was a real mixed bag but throughout it all the stunning beauty of the Queen Charlotte Sound shone through and captivated each of us.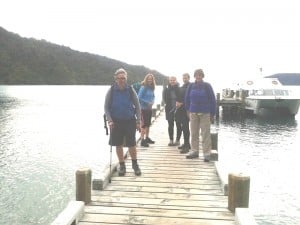 The day before we left, unbeknown to me, I had picked up a very nasty virus. Thinking I was just feeling a bit crook and would get better as the days went by, I carried on with the trip. I didn't get better, I got worse. Although this meant that the trip was quite a struggle for me, I was determined to not let it spoil it for the rest of the group.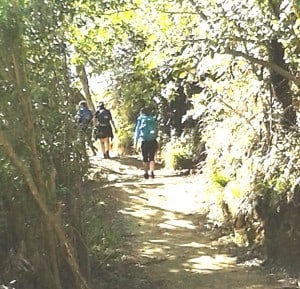 We left on an overcast morning with the sun struggling to shine through the clouds. The forecast was good though and we were all feeling optimistic. We were mentally prepared for the steep 50 min climb up out of Ship's Cove. I slowly plodded my way at the back which was to end up being my spot for pretty much the whole trip.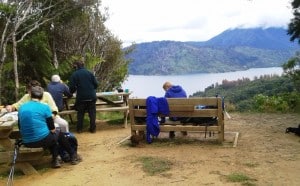 Our lunch break at the lovely half way lookout point was a very welcome stop and we silently drank in the views around us. The meandering walk down into Endeavour Inlet was so lovely as we passed pretty little coves and homes tucked away amongst the trees with steep little pathways leading up to them. We envied the families their privileged hideaway retreats in such serene surroundings.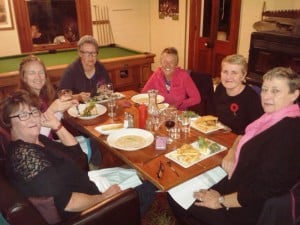 Our first night was spent in a chalet at the very beautiful Furneaux Lodge. We joined the other trampers for dinner in the cosy bar with its roaring fire.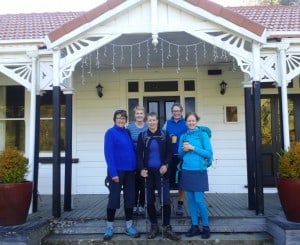 A leisurely start to our morning saw us up making our breakfast and our lunches for the relatively easy day's walk ahead of us. The breakfast and lunch food boxes had arrived the day before and even though they hadn't been put into the fridge they were still fine. We left our stack of bags and boxes on our front porch, got coffee's to go and off we ambled through the cool morning shade.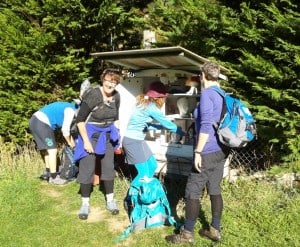 You don't imagine you'll get a chance to go shopping while out tramping but that's just what happened. We stopped at this cute little stall that sold hats, scarves, eggs, fruit and honey and one of the women bought a lovely hat, popping the money in the Honesty Box as we left.
It was a beautiful clear, sunny Autumn day and the absolute stillness and tranquillity worked its way into our souls, each of us walking for long quiet moments by ourselves, just soaking it all in.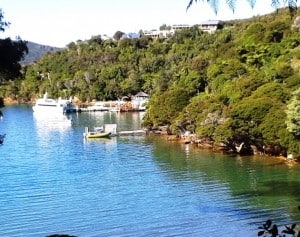 Our peace and tranquillity was rudely broken when we reached lovely little Punga Cove and the raucous group of party goers who thankfully were just about to leave. We rested, we strolled around, we sat in the spa pool overlooking the water, we wined and we dined and thoroughly enjoyed this pretty little cove. It was off to bed pretty early as it was to be our biggest walk the next day, from Punga Cove to Portage Bay.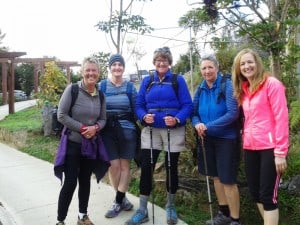 An overcast morning greeted us, which was probably just as well as it meant it wouldn't be too hot. One of the group had decided to catch the ferry around to Portage Bay as she was having difficulty with her hip. This turned out to be a good call as it ended up being a nine and half hour walk (that pretty much did me in!)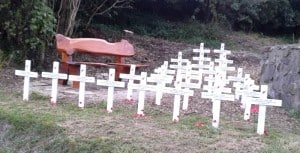 Once again we climbed our way up out of the bay and then it was a series of ups and downs along the ridgeline with amazing views into Kenepuru Sound, before making it out to the road at the top of Portage Bay. A moving tribute of ANZAC white crosses greeted us at the top of the road next to the tall memorial covered in wreaths to the 29 "Sounds" men who had lost their lives in the war. It was ANZAC Day, the 100 year memorial.
Andrea greeted us as we limped up the driveway to our accommodation at Treetops. The heater was on, the wine was cooling and the table was covered in nibbles. We gratefully collapsed as the weather closed in around us. I had planned for us to go kayaking in the bay the next morning but cancelled it instead. The forecast was pretty bad and going to get worse. We had the next day free to rest and recuperate and we all took full advantage of it. I crashed in bed for the whole day, just emerging to eat a bit of food before hibernating again. The others explored the bay, played scrabble, read and rested (and wined and dined!)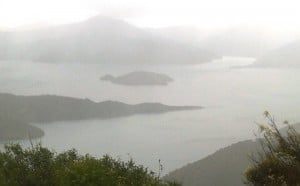 Our last day's walk was hard! A long, slow climb (about 2 hrs) up and out along the ridge in torrential rain and strong winds. The rain didn't let up all day till we got to Anakiwa. Often we were trekking through streams of water as they flowed along the path, creating little waterfalls that tumbled into the bush below. Little stops here and there for water and soggy bits of food, constant slipping over on the slippery clay track, keeping an eye out for each other, making sure we were all hanging in there.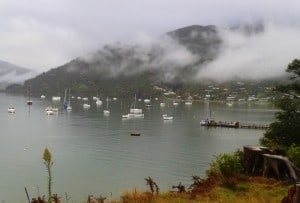 Anakiwa Bay was such a welcome sight! Even though we had missed our ferry we knew another one was on the way to get us and it gave us time to get out of our wet clothes, put some dry ones on and have a bite to eat. Our ferry arrived and we all sank into the warmth congratulating ourselves on such a mammoth effort as it sped us over the water and into Picton. Yes, it was a mixed bag of an adventure (and I'm still recuperating in bed as I write this) but I wouldn't have missed it! Queen Charlotte Track is still right up there as one of my most favourite walks!