Bali…..just the mere word conjures up a mosaic of unique, exotic, colourful, cultural experience like no other. From its mountainous interior, through villages full of temples and sweet wafting incense past its vibrant green, rice paddies to its long coastal beaches of frothing white surf, Bali delights the eye and totally wows the senses.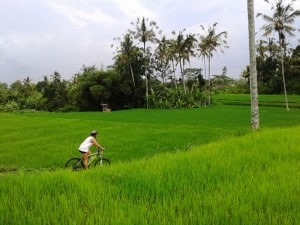 The first time I had been to Bali was 20 years ago, then 15 years ago and while it has definitely gotten busier with lots more tourists, shops and motor scooters, the essence of what makes Bali special remains the same.
My husband Derek and I had gone over to Bali this time not just for our own holiday but also to check out and put together an adventure/cultural/relaxing type holiday for my Women's Adventures NZ to do Bali next year in 2016. And I believe we've done just that.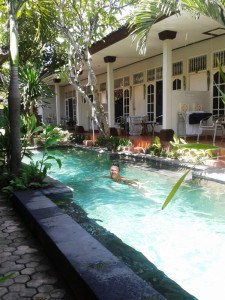 Here's a brief updated overview of what this holiday would look like. The dates are Wed 13th to Tue 26th April 2016. April is a good time of year to go as it's the end of the wet season and it's not the peak busy season (June, July and August.) The cost is $2000.00. The cost includes pretty much everything except your airfares and most of your meals (except for breakfast). It includes stunning twin share accommodation at at 6 different locations, transport with our own driver, cycle tour, sunrise tour, cooking class, ferry trip to Nusa Lembongan, entrance fees to the various places we will visit and cultural performances.
Day 1 and 2 – Sanur
The first couple of days would be spent at the lovely, relatively peaceful Sanur on the East Coast. This would give everyone a chance to 'arrive' and acclimatise themselves. There is a lovely long cycle-path along the beachfront and lots of little lanes and streets to explore by bike. A sunset excursion to Uluwatu is included on Day 2. Accommodation is at Little Pond, a little oasis in the heart of Sanur.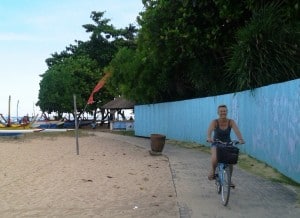 Day 3 to 6 – Ubud
On Day 3 we leave for Ubud and spend our first day in Ubud exploring with free time to go shopping, check out Monkey Forest, get a spa treatment, hire a bike and go cycling in the nearby villages or head off for a walk in the rice paddies. In the evening we'll go to a Kecak Performance at one of the local temples. This performance features a group of up to 80 men sitting chanting in a circle and accompanies the dance re-enactment from the Hindu epic Ramayana. It is a not to be forgotten performance! Accommodation during our time in Ubud is twin share in a stunning hotel right in the heart of Ubud.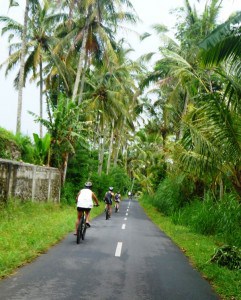 Day 4 – Cycling Tour – Kintamani
We head off at about 8.30am in a shuttle van up to the village of Kintamani stopping off at a coffee plantation on the way to sample the many different varieties of locally grown coffee. A breakfast stop at Kintamani then we're off cycling for 3 hrs mostly downhill through many villages and rice fields. This is a wonderful experience and a great way to see so many lovely little villages. We arrive back at about 3pm and have the rest of the afternoon to relax, swim in the pool, have a spa……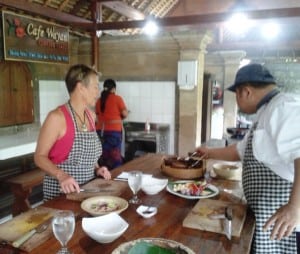 Day 5 – Local hiking and Cooking Class
We spend the morning going for a 3 hr hike just out of Ubud up into the rice paddies, through villages and back along the river. At 3.30pm we are taken to our cooking class run by the famous Café Wayan.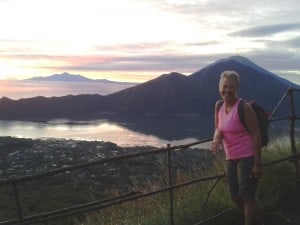 Day 6 – Mt Batur Sunrise Trip
We are picked up at around 2.30am and taken to the start of our 2 hr climb up Mt Batur to see the sunrise. We then walk around the top of the crater before returning back to Ubud by about 11am. The rest of the day is your free time.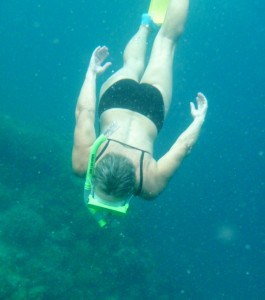 Day 7 – Ubud to Lovina via East Coast
We leave Ubud early and drive to Padang Bai to go snorkelling at Blue Lagoon Beach. After a couple of hours spent snorkelling we then head for the East Coast and Tulumben to go snorkelling at the site of the WW2 Japanese wreck. From here we travel up the coast to Lovina in time to see the lovely sunset over the beach. We stay the night at Lovina in beautiful accommodation with a huge big pool.
Day 8 – Lovina to Sideman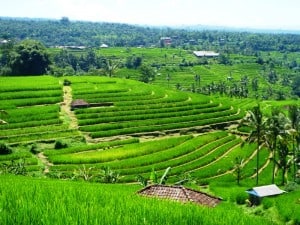 We travel from Lovina down through the centre of the island stopping at the 2 lakes, the lake temple and at the Unesco World Heritage Jatiluwih Rice Fields before continuing on down to Sideman, one of Bali's most beautiful river valleys and our accommodation for the night.
Day 9 – Hiking in Sideman
We spend the morning on a guided walk through the many beautiful rice fields and valleys in this area and the afternoon relaxing at our gorgeous accommodation.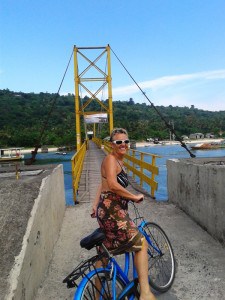 Day 10 – Nusa Lembongan
We leave Sideman early to drive to Sanur and catch the 10.30am ferry to Nusa Lembongan.
Once there we have free time to explore the island by bike, to go kayaking, stand up paddleboarding, learn to surf or just relax by the pool or on the beach. Beautiful accommodation right on the beach in twin share rooms.
Day 11 – Snorkelling Trip – Nusa Lembongan
We go on an organised snorkelling trip in the morning and spend the afternoon having free time to do all the things you didn't get to do the day before!
Day 12 – Nusa Lembongan to Sanur to Seminyak

We catch the 8.30am ferry back over to Sanur and then get transport over to Seminyak where we enjoy the day swimming, learning to surf or just relaxing under the trees. Our final sunset and dinner is spent on the beach enjoying the chilled out music whilst relaxing on giant bean bags. Once again I have lovely accommodation organised that is just a short walk to the beach.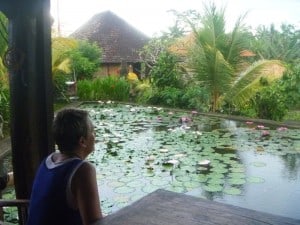 Day 13 – Shopping at Seminyak
Our last day is spent doing that last minute shopping or getting in the last bit of R n R before we head out to the airport for our evening flight.
Day 14 – Arrive back in NZ.