Speeding flat tack down the bumpy forest trail, cold wind whipping past, eyes watering, intensely focused on the rutted, pot-holed, muddy, branch strewn track. Standing, crouched low on my pedals, body leaning forwards over the handlebars, fingers splayed lightly over the brakes, alert to all the possible dangers…..this was totally exciting, exhilarating and scary!
This was The Timber Trail.
Four of us were in the heart of the Pureora Forest to do the 85km mountain bike trail with little idea of what to really expect. We knew it would be a challenge, but just how challenging, how tough, how physically and mentally demanding it would turn out to be, we didn't yet know. By the end of Day One we knew and our numbers reduced to half.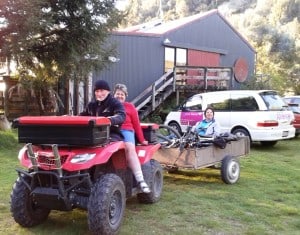 Two of the group ended up having to be picked up by quad bike near the halfway mark as both were exhausted. One had a nasty deep gash in her leg where the pedal had gouged her when she came off, the other had come off over the front of her handle bars and was pretty sore as well. Both decided to flag Day Two and rest, re-coop and explore the many different walks around our accommodation art Blackfern Lodge.
Sandy and I soldiered on. And we were glad we did, though it took everything we had and we're both pretty fit women! We cycled over huge suspension bridges that swayed in the strong breeze, we cycled through dark, natural tunnels made of over arching trees and ferns and through a 'real tunnel', through regenerating forest, through old mossy lined forest and up steep forest tracks. It was beautiful with stunning views across the valleys. Best of all was the 30km fast ride down hill pretty much all the way to Ongarue.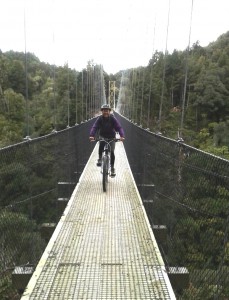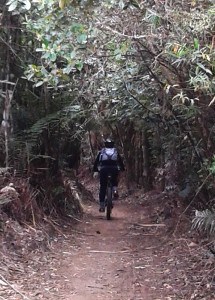 Yes, it was challenging, demanding, tough but if you're fit and into mountain biking, you'll love it!