Six of us headed off down to the "sunny" Hawkes Bay for 3 days exploring the cycle trails that run in, around and through the beautiful Hawkes Bay.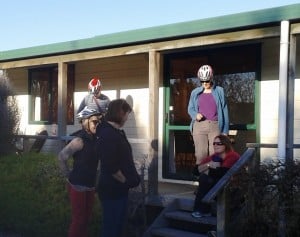 Our accommodation were these warm, cosy cabins in Clive. Once we got settled in and got our bikes organised we then set off for a sunset bike ride along the beach front heading towards Haumoana.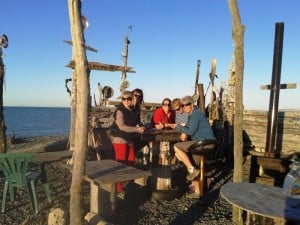 On the way we stopped off to admire this incredible, eclectic mix of flotsam and jetsam that has been used to build a very creative "Tsunami Beach Bar."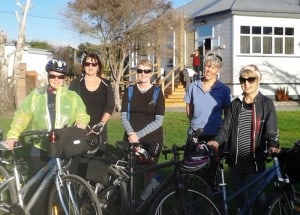 Day One dawned warm and sunny but incredibly windy!
We battled the wind along the waterfront into Napier where we stopped off to learn more about the history of Napier with it's unique art deco architecture.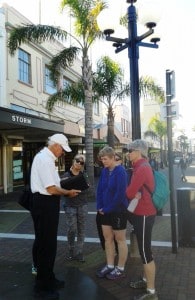 Then it was off again, out to Ahuriri, West Shore and Bay View. At times we were almost blown off our bikes! After stopping off at the Snapper Cafe at Bay View for lunch, (very nice) we sped back along the cycle path with the wind at our backs. It felt sooo good!! Dinner at Mister D's in Napier that night was absolutely divine!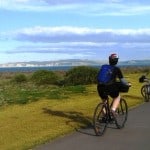 Day Two we awoke to spitting rain but no wind so off we headed out west to the Puketapu Pub for lunch.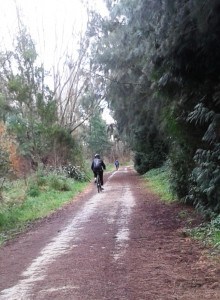 This was a beautiful ride with the trail winding it's way through fields of cattle, pine trees and alongside the river before coming in to the pretty and picturesque little village of Puketapu. We sat back in the warmth and cosiness of the pub with it's roaring fire, chatted and laughed together and enjoyed our yummy pub lunches.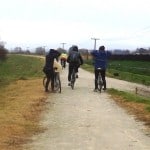 On the way back it really started raining and we all looked a mess when we got back….. the wet fine limestone gravel was splattered all up our backs, legs and all over our bikes! After literally quick 2 min speed showers we all piled in to my van and drove down the road to our sausage making session at John's house.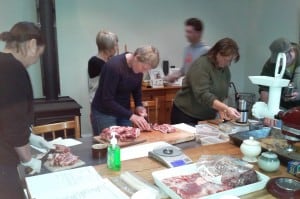 John and his mate Dan gave us a very informative presentation on sausage making and we asked lots of questions before we launched into chopping the meat, weighing and measuring the herbs and spices, mincing it all and making the sausages.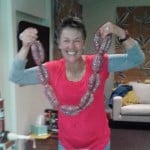 We were all feeling very proud of ourselves especially making the real butcher looking loops of sausages!
Day Three was meant to be our ride out to the wineries with lunch at Ash Ridge Winery. However, the rain had set in and it was much colder so we opted for Plan B….. we hopped in the van and went exploring and then wine tasting at Clearview before our lunch at Ash Ridge. Unfortunately, I forgot to take some photos though! It was a lovely way to spend our last day and we all agreed, it had been an excellent time that we'd had in the lovely "sunny" Hawkes Bay! :)