We didn't quite get to see the central Otago area in all it's Autumnal glory but it was such a lovely adventure anyway!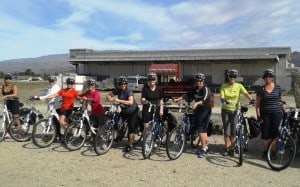 A warm, sunny, blue sky day , the bikes were sorted and we were on our way!
Nine of us headed off in perfect conditions, just cruising along, chatting together, getting used to our bikes and to each other.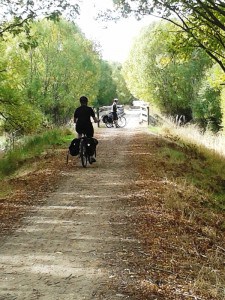 We were heading for Omakau, 37km away, where we were to spend our first night at the Omakau Bedpost, the converted Post Office building and Postmasters house. But first we had a stop at the iconic Chatto Creek Tavern, 25km along the trail.
By the time we got to Omakau it was 5.30pm and after quick showers we were into our "going out" clothes, picked up by shuttle van and taken to the beautiful Pitches Store in Ophir. Our meals and the wines were absolutely gorgeous and we tucked in with gusto!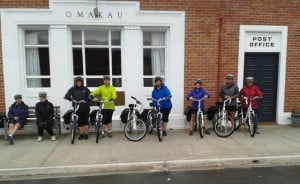 Day 2: Omakau to Wedderburn
A leisurely start to our morning saw us off at 9am with our rain jackets on as it was just spitting lightly. Only 7km down the trail and we stopped for coffee's at Lauder, hey… we were in no rush!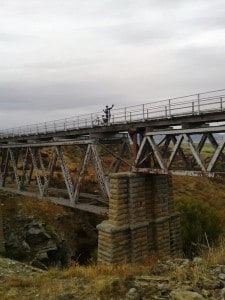 Off again through one of the most spectacular parts of the trail, the Poolburn Gorge, where we crossed the 37m high viaduct and went through 2 long and very dark tunnels. Good job we had headlights on our bikes!
The next part of the trail was actually quite long and straight and unless you were having a really good conversation with someone then it was quite taxing. We were all definitely ready for our packed lunches by the time we got to Oturehua!
From there it was just another 8km of gently climbing trail to our accommodation for the next 2 nights at Mt Ida Farmstay.
A lovely hot spa awaited us there and after relaxing and "refreshments" we were ready to go out for dinner just down the road at the famous Wedderburn Tavern.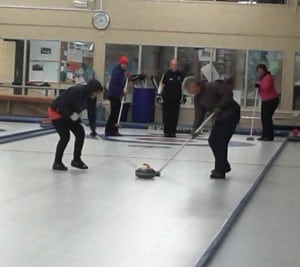 Day 3: Exploring Day
I hired a 12 seater van for the day and off we set for a day out exploring the nearby district. First up it was Curling at Naseby, which was a lot of fun. Our 2 teams competed fiercely against each other!
After a warm up coffee, (it was really cold in there) we headed off to Dansey's Pass Coach Inn for lunch. This is such a lovely old Inn and certainly well worth the 45 min drive.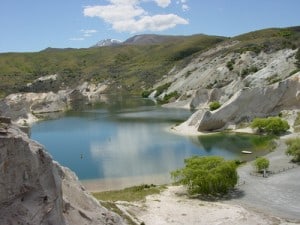 Then it was off to St Bathans for a lazy Sunday afternoon of strolling around the little township with its old stone houses, walking around the lake that was the 168m deep mining pit and of course enjoying the well known Vulcan Hotel.
After stopping off in Ranfurly for supplies it was back to our cosy accommodation where the fire was glowing and the wine was flowing and there was lots of talking and laughing together. It was a lovely way to finish such a great day out together.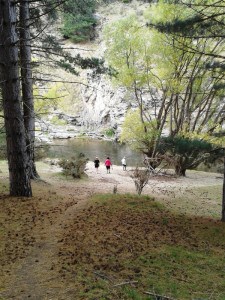 Day 4: Wedderburn to Hyde
Up and on the trail by 9am on this rather cool morning. We sped along on the downhill trail to Wedderburn in no time at all. After the obligatory photo stop by the Green Shed, made famous by the local painter Graham Sydney, we were off and speeding along to Ranfurly. We were all feeling refreshed and keen after our day off and our backsides were definitely feeling better for having had the rest! This for me is one of the prettiest parts of the trail as you bike along beside the Taieri River and the trees were just starting to "turn". In a few more weeks time it would be simply glorious……ahh well, never mind……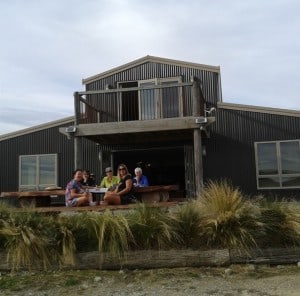 We sped along the trail once more, our motivation was to get to the Hyde Hotel before it closed at 3pm! We zoomed in there bang on 3pm only to find it closed at 3.30pm. YES! Sitting outside in the afternoon sun enjoying our drinks was just lovely.
We were picked up at and taken back to our accommodation at Tussock Lodge which was a very nice place to stay for our last night on the trail.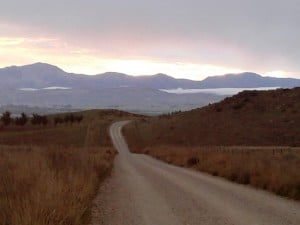 Day 5: Hyde to Middlemarch
A beautiful red sky morning greeted us when Mark, the owner, picked us up at 7.30am the next morning and dropped us off back at Hyde where our bikes were waiting for us. From there it was a very easy 27km ride into Middlemarch and the end of the trail.
We had had a fantastic 5 days together. Friendships were made, stories and laughter were shared along with fine wining and dining and we had all been wowed, impressed and quietly moved by the wide open skies, the golden rolling hills and the rail trail that had been laboriously built so many years ago. To see more photos, check out the photo album.