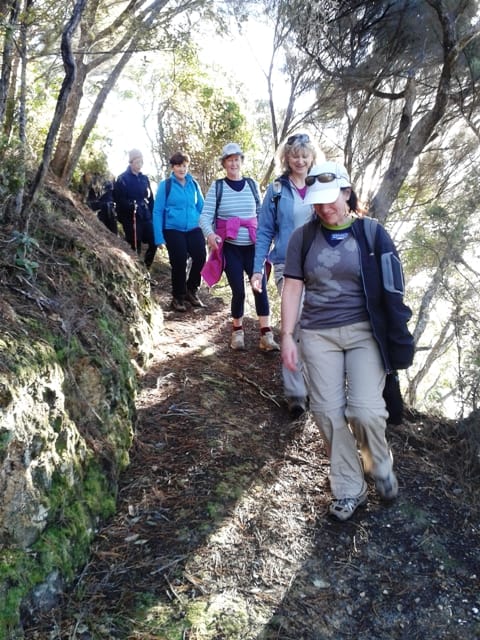 Saturday morning 8.30am and my van was loaded and packed with 7 other women and our gear for our tramping weekend in the Bay of Islands – and what a perfect weekend it was!
We arrived at the Base X backpackers (they had a great deal of; accommodation, free glass of beer or wine – and we're talking a good healthy sized glass of wine – and a really good hearty BBQ), we got ourselves settled in and strolled of
f into Paihia for our packed lunch sitting on the wharf watching the busyness. After lunch we literally "hitched" a ride with a friendly local tour op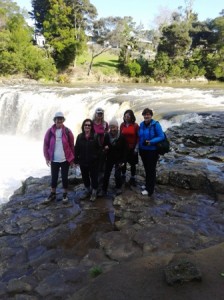 erator who took us up to the top of the Haruru Falls. With all the rain we've been having the falls were very impressive. We learnt that Haruru Falls is one of only two waterfalls in the world that is horseshoe shaped. The other one is Niagra Falls…..just a bit bigger! We walked along the very pretty track and out onto the Waitangi Reserve where we visited the grounds and the Treaty house.
A PD (pre-dinner drinks) stop at Shippey's Bar on the old Tui boat was very welcome, before we continued on our walk back to the backpackers.
Some of us had a not very hot spa :( before our delicious BBQ meal of steak, sausages, baked potatoes and salads.
Highlight of the day – the 2 lt tub of ice-cream drizzled with Kahlua shots that we all shared!
The next morning we were up bright and early, it was a very chilly morning, there was even ice on my van….I didn't know they got ice up in the "winterless north!"
After a good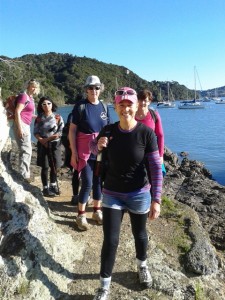 healthy breakfast we were off on our 6 hr Full Day Circle Walk.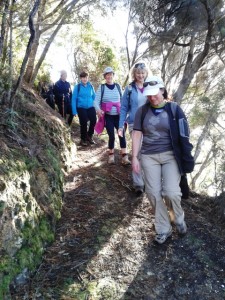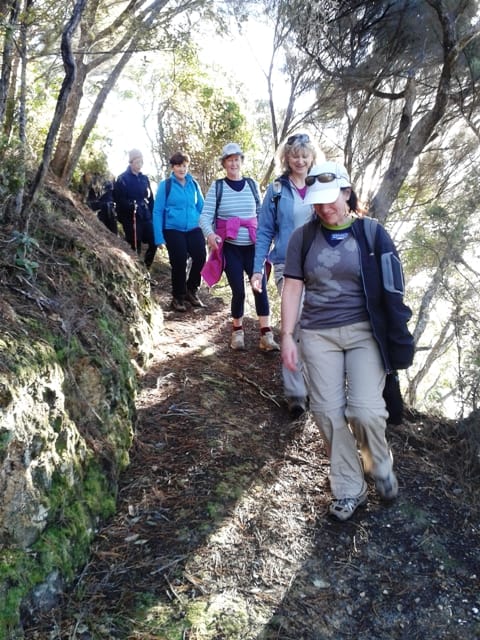 Starting from Paihia, we strolled around the waterfront, along the beach, over rocks and followed a coastal path as it meandered around some very pretty little bays and into Opua. A coffee stop at the local general store right on the wharf and then we caught the 5 min car ferry over to Okiato. From there the walk was easily signposted. There were a few hilly bits as walked through the bush track but nothing too challenging at all.
We came out to a lovely little bay, "Orongo Bay" where we stopped for our packed lunch. It was one of those stunning sunny, calm and clear mid winter days.
Around the bay a bit further and heading for Russell was the 'boardwalkey' bit. Lots of lovely long boardwalks that made for very easy strolling along.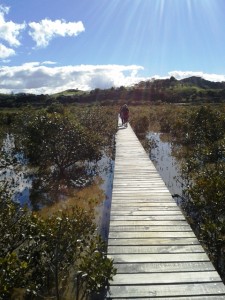 A little bit of road walking before we were back on the track and coming in to Russell. We then ambled easily along Florence Ave and right into the heart of Russell. Russell is such a pretty little place, hard to believe it was once the "hell hole of the Pacific!"
Within half an hour w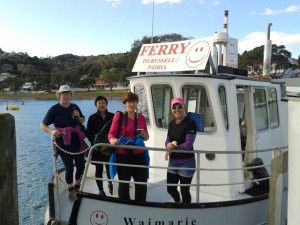 e were on the ferry and on our way back over to Paihia. This was definitely a walk I would highly recommend.
Highlight of the day – sitting on the little jetty eating our lunch in the sun in such a beautiful little bay.