Horse Riding – South Head to Murawai Beach – Nov 2013
Pulling on the reins, trying frantically to control a horse that just wants to gallop madly along the wild deserted Murawai beach, was quite an exciting and scary challenge for a relatively beginner rider like myself!  Thankfully my horse also liked wading in the water which seemed a better prospect of falling off into should he decide to take off on me!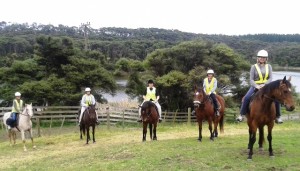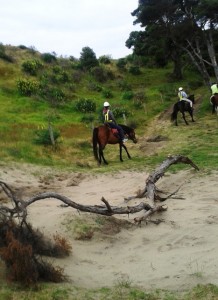 What a fantastic 3 hour ride we had today. We rode around little lakes, noisy with the sound of hundreds of croaking bullfrogs, over lupin covered farmland, through towering pine forests and onto the stunning Murawai beach.  I can thoroughly recommend this adventure and will definitely be doing it again.  Excellent for the slightly more experienced rider!