It's been a few days since I've written my "daily" blog…….   But each day I've made sure that I've done something that will make my day feel that little bit more special and each day through having this as my main focus I have found out more about myself.   Read below to find out what I ended up doing….
Day 21 – Yes you may celebrate yourself!
It was early Saturday morning just after 6am and I was up and getting ready to meet up with my running group "Gold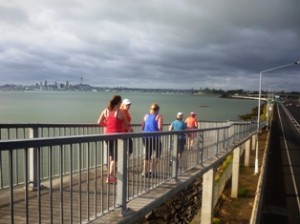 ingham's Girls" to do a 10km run in the Northcote Point area.  (One of my favourite areas of Auckland.)  We drove off in my van down the motorway, parked at Onepoto Domain and off we set.  I took off at the front with my chalk to draw arrows for the rest of the group to follow.  It was a gorgeous run, we ran down streets and walkways that we never knew existed, marvelling at all these beautiful old villas, we ran under the harbour bridge on ramp, through parks and reserves……
And as I ran I was thinking about what I was going to give myself permission to do that day to make it special….imagine that!  Then of course I realised that what I was doing right then was pretty blimmin special, but to push out the boat a bit more on myself I decided as I ran along to celebrate myself.  Now, this is not always that easy for us to do.  Often we find it easier to identify our faults not what we're proud of.  We are often guilty of the "tall poppy syndrome" to ourselves.    But as I ran along feeling fit and strong I decided to acknowledge and congratulate myself for that –  and then I started listing off other things big and small that I had achieved  that I felt proud of and I really allowed that feeling of personal celebration to sift down into my inner most being and stay there.
Day 22 – Yes you may ……
OK, I admit it……. I found it hard today to come up with something special, something different, something that I was giving myself permission to do,  feel, express, learn or experience that I maybe wouldn't normally do.  In fact I started putting a bit of pressure on myself, like, come on, you've GOT to enjoy this day!  What are you going to put in your blog then?  Accountability is a great motivator but it can also be a source of stress too which kind of negates the whole premise behind this blog.  Throughout the day as we had a lovely long breakfast with my sister at a local cafe, (in Northcote Point) as I shopped for last minute things to take over to Samoa, (I leave on Thursday) as I lay on the couch with my feet up reading my book, as Derek and I "judged" the X factor contestants together….. I was thinking "hmmm, this feels pretty nice, this feels special, and this feels good but is it really worth writing a blog about…..?
Day 23 – Yes you may harden up!
Now I know I've said quite a few times in this Yes You May blog that I enjoy exercising in the early morning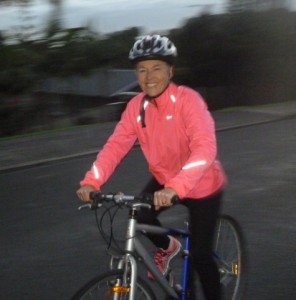 s and that is true for most of the time…. but…..there are times like this morning when I didn't want to get up.  I had done all my little motivating strategies like getting my exercise gear out the night before, planning my route where I was going to cycle, visualising myself out on my bike feeling fit and strong, visualising myself getting home and how great I'd feel and it still wasn't working.
I knew I wasn't sick, tired, sore or anything like that.  Mentally I didn't feel like I needed to "give myself a break."  I knew I just needed to "harden up."  Over the years I have learnt (and am still learning) how to let my mind control my body and not the other way round.  I have learnt that my body, my attitude, my emotions will believe what I tell them to believe, if I say it with conviction.  And the more I say it, the more my body etc goes along with it.  So, harden up I did.  On went my jacket and out into the drizzly rain I went on my bike.  I gave myself permission to go out for at least 20 min and ended up out for double that and yes……once again my mind was right. I did feel awesome when I got home. 🙂
Day 24 Yes you may try something new!
Another wet early morning start.  This morning I was determined to do something completely new, to try an exercise class that I'd never done before.  We're very lucky in that we live just around the corner from the local Leisure Centre.  The da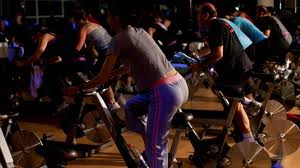 y before I had booked myself in for the 6am RPM (or Spin) class.  I hadn't ever bothered with RPM before because I have a bit of an aversion to cardio machines as I think, why be inside rowing, cycling,  running , cross training on a stationary piece of equipment with loud music blasting and big TV screens on when I could be outside in the fresh air enjoying the sounds and smells of the early morning (read one of my previous blogs "Maximise the Moment and you'll get where I'm coming from.)
But some women from my running group had raved about the classes so I decided to give it go.  WOW!…. talk about a heart pumping, sweat pouring, jelly legged workout!!  It was great!  There we were pumping our legs as hard and fast as we could to Billy Idol blasting out "With a rebel yell she cried more more more!"  What a way to start the day!  I don't think it's my thing to do it all the time but it certainly is a damn good workout and it's made my day. 🙂