Well I've just had a taste of what it's like to be a busy mum at home with sick kids ……!!  I've been on "nana duty" yesterday and today and I realise how difficult it can be to try and create great moments when you're busy catering to the needs of sick kiddies.
However, through doing this blog and therefore having the thought of creating great moments constantly on my mind, I loo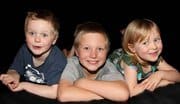 ked for ways to make my time with my grandkids special.  Given that they weren't up to doing much at all on account of feeling sick, I spent time reading stories, watching a DVD all the way through with them, (instead of leaving them plonked in front of it while I worked) building a lego zoo and cooking up their favourite foods to tempt their little appetites.
After they were gone I spent some time relaxing with hubby and then heading off to bed early with a good book.  I don't know about you, but that for me is bliss…..!
No, I didn't get my work done, yes, everything was put on hold and yes I got up real early this morning to do some catch up but I wouldn't have had it any other way and yes, it felt great to spend that quality time with my grandkids.