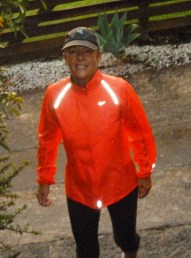 OK, Day 2 of giving myself permission to do something each day that makes me feel positive, alive and good about life!
Woke up this morning to stormy wind and rain and the thought of putting on my running gear and going out for a run was not particularly appealing and to be honest, normally I would have not gone.  But, then I thought of how great I'd feel afterwards and so armed with that as my motivation, off I went.
And it was brilliant! The beach was wild, with sheets of rain being blown across the sand.  I even stopped and did park bench press ups, tricep dips and some walking lunges. Got home feeling so energised! What a great way to start the day! 🙂
This site uses Akismet to reduce spam. Learn how your comment data is processed.