Day 19 of giving myself permission, "yes, you May," to do something each day for the month of May, that will make me feel great.  I didn't get a chance yesterday to do this blog as I was back on "nana duty."  During the day though I was thinking of what I could do, what was something I could add to my day that wouldn't take up a huge amount of time (as I didn't have much of that yest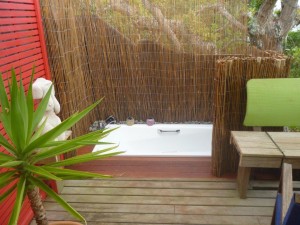 erday), wouldn't cost money and would add value to my day.  I discussed it with my husband and still hadn't really thought of anything….I'd already cooked up a really nice meal as a treat but still felt like I could do something else…..
I had an exercise class to take at 5pm so off I went.  When I got back home it was dark and raining just slightly.  My wonderful husband had run a lovely hot bath in our outdoor bath for us with with a big glass of red waiting for me!  We sat in the bath, caught up on each others day, drank our wine as the soft misty rain fell on our faces and it was just perfect……!  (I didn't get a photo of us in the bath…probably just as well…but here's one of our bath on a sunny day.)
Today…..well after spending all day in my office catching up on a backlog of work as soon as I finish this blog I'm off down the beach for a late afternoon walk which I am soooo looking forward to!