Maximising the moment, squeezing all the juice out of it, BEING totally in the moment, being present…..this is what I gave myself permission to do today.
I LOVE my early morning exercising.  I love the gentle soft pre-dawn light, I love the sound of the birds waking up, I love the clean freshness of the early morning.  I love the ease of just rolling out of bed, throwing on my exercise clothes and within minutes I'm out the door either on my bike, my kayak,  running,  tramping, swimming…..
This morning I decided to practice being totally in the moment with all my senses (except maybe for taste) being highly attuned to that present moment.  As I ran along one of my favourite runs, (if your a local "coastie" you'll know it – up Scott Rd, into Wade River Rd and down to where the boats are moored) and I asked myself these questions;
What can you hear?  I listened intently to all the different bird calls trying to identify what bird was making which sound , the distance hum of traffic, the sound of the w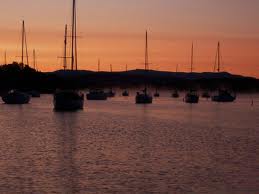 ater lapping, the sound of my feet running, my breathing….
What can you smell? Ahhhhh…….breathing in deeply I savoured the earthly richness as I ran through the bush area, the faint eucalyptus smell of the gum trees planted nearby, the almost peppery smell of the vegetation and the delicious salty briney tang as I ran down the hill to the little bay…all heightened by the early morning freshness.
What can you see?  I allowed my eyes to roam further, to look deeper, to notice the way the early morning light infused the air with a delicate golden hue which in turn heightened and enriched the natural colours so that they glowed.  I noticed textures, the white silkiness of the trunks and branches of the gum trees, the shapes of branches splayed against the sky, the pink clouds reflected in the milky blue sea……
And most importantly, what do you feel?  I stopped to drink in the view, to absorb the moment, to feel the beauty in my soul, to allow myself to just BE and my eyes welled up as I was overcome with such a feeling of contentment, joy and calmness.  At the moment a woman walked past and looked over at me, "so beautiful isn't it" I said.  "Yes, she replied, "such a lovely way to start the day."   I felt like going over to her and hugging her!
John Lennon once said, "Life is what happens when we are busy making other plans."  By being aware of maximising moments in your life, squeezing the juice out of them, BEING totally in the moment, you are ensuring you are really LIVING your life.