Since starting this blog not even a week ago, I've been amazed at the difference already in my day to day life!  When I now wake up in the morning my first thought is, "What am I going to give myself permission to do today?"  Just that thought alone is pro-active, positive, life affirming and opens up a whole heap of possibilities!!  So much so that I've even started a list of all the different things that I've thought of that don't take much time (often only half an hour), mostly don't cost any money or very little money and don't require anything more than a bit of enthusiasm!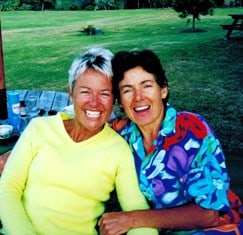 So today, I gave myself permission to finally get in touch with an old friend of mine.  It's not like I haven't wanted to as I have thought of her often, it's more that "life" has just taken over.  She's been living down in Christchurch and other various places and our lives had just drifted apart. So I tracked her down, got on the phone and rang her up.  Only had a chance for a quick excited chat as she was heading out the door but she's phoning me back this afternoon. 🙂
And that's all it took.  Deciding to do it and jolly well doing it!  And already my day feels better.
Here's a photo of us about 12 years ago.
This site uses Akismet to reduce spam. Learn how your comment data is processed.