Following on from my blog from yesterday, still feeling a bit poorly but…… since starting this blog I've realised what a difference it makes when I look for ways to add a positive spin on each day.  I've become very mindful of creating moments that m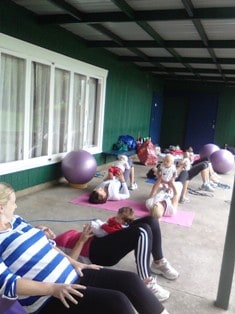 ake me feel happy……not that I'm normally not a happy person, it's more about enriching my life just by doing some little positive thing each day.
So yesterday, my bed became my office (I'm lucky I do a lot of my work from home) and I worked and dozed and took care of myself.  Today, feeling a lot better but still not 100% I took a couple of exercise classes.  After one of them (my Active Mums class in Devonport) I shouted the mums out for a coffee to celebrate the end of their 8 week block of classes.  Part of me was thinking "I'll just stay for a quick coffee then I better get back and catch up on my work".
Then my "blog mind" kicked in and I thought, "Just STOP will ya!"  Enjoy spending time with these lovely young mums, stop feeling guilty that you're not working, in the big picture of life relationships with people are more important than getting my emails cleared!
I didn't get a photo of us all sitting at the cafe but here's a photo of my group taken last Thursday.
This site uses Akismet to reduce spam. Learn how your comment data is processed.